ROSE IN A BOTTLE - Wall Art Printable Download
On Sale
MINIMALIST WALL ART
⦁ Downloadable art print
⦁ Digital download
⦁ Minimalist Black and white line art drawing.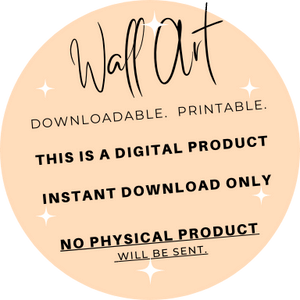 HOW TO PRINT
You may print this art from home, at a local print shop, or use an online printing service.
I recommend you print it out on cardstock or heavy paper but you can use watercolor paper or any type of paper you desire to create the effect you like.
-- I N C L U D E D - F I L E S --
Downloadable links for different ratios in both JPEG & PDF file formats. Each ratio file has three high res JPEG image 300 dpi ready for instant download/print (as well as in printable PDF).  Also included is a instructional text file.If you're having trouble with anything, please feel free to message me. 
A 4x5 ratio file for printing 4"x5", 8"x10", 16"x20", 40x50cm.
A 3x4 ratio file for printing 6"x8", 9"x12", 12"x16", 18"x24".
A 2x3 ratio file for printing 4"x6", 6"x9", 8"x12", 10"x15", 12"x18", 16"x24", 20"x30", 24"x36".
An international paper size file for printing 5"x7", A5, A4, A3, A2, A1, 50x70cm.
A file for printing 11"x14".
★ THIS FILE IS FOR PERSONAL USE ONLY. FILES ARE NOT TO BE SHARED.